Since Eurocircuits formation back in 1991, their strategy has been to continually invest in all areas of the company from new factories, manufacturing and test equipment, internal software development, customer support and people...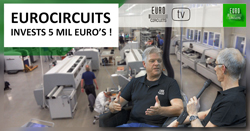 In response to changing customer and market requirements, 2017 saw the launch of their Prototype & Small Series Assembly Service, which has proved hugely popular with their customers.
So much so, that this year (2019) has seen Eurocircuits invest a further 5 million Euros to meet the growth in their Assembly service for PCB Prototypes & Small Series, along with improved capabilities in their PCB production services and online eC-Smart Tools such as their Visualizers.
In Assembly, a result of this investment strategy saw the introduction of 2 of the latest technology Solder Paste printers, digitally printing the Solder Paste. Extra pick & place machines have been added, component feeders, reflow ovens, logistics and much more which have quadrupled Eurocircuits' assembly capacity.
You cannot achieve fast turnaround without doing things "Right First Time" which is where their groundbreaking Visualizer software is key, to allow customers to 'visualise' their PCB and assembled boards, double checking the designs are manufacturable.
Process control and quality assurance are vital and for these they have implemented SPI and X-Ray inspection, enabling them to assemble higher technologies.
Improvements to Eurocircuits' PCB production mainly focussed on flexibility and quality to further support this years' path of driving down standard delivery terms.
A 4th Ledia Direct Imaging system was installed and brings many benefits especially for Soldermask quality. A 3rd A7 flying probe tester delivers extra flexibility and throughput.
Eurocircuits have also expanded by opening a UK company, investing in the UK market with a dedicated UK customer support team based in Devon.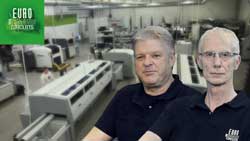 Dirk Stans, Managing Partner, explains : « Both Luc (Smets) and I are very proud of Eurocircuits' achievements over the last almost 30 years and are excited for the future, as this is one of the most significant investments we have ever made. »
It allows us to meet the ever-increasing demand for our Prototype Assembly service, which has increased from 1.700 orders in 2018 to over 3.500 orders (Jan – Oct) in 2019, creating its own challenges due to the niche market that we serve and also providing the platform for our future growth.
All investments in Assembly and Bare Board manufacturing focus on reducing setup times when switching from one job to another, resulting in driving down lead-times for customers.
The increasing number of orders is no problem for mass production assembly because even though the set-up takes time, it then runs and produces many hundreds of PCBs.
However, this lengthy set-up creates a bottleneck for the Assembly of Prototypes & Small Series, as generally no two boards are the same, meaning if you need to assemble 100 different jobs per day you need to perform 100 set-ups per day.
The investment in assembly equipment allows us to meet the demands but we want to do better than that and offer ever shorter delivery terms.
To do this we need to reduce the set-up times and we will do this by using our own engineering innovations and out of the box thinking.
This will deliver enormous added value to our customers as we have already achieved in our PCB production.
Eurocircuits is fully committed to the European Electronics Manufacturing Market. We have Invested in Europe, invested in the UK and Invested for the Future.